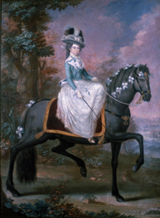 Dama a Caballo (Isabel Maria O'Daly) by José Campeche y Jordán, oil on wood panel, 1785, Museo de Arte de Ponce, Puerto Rico, The Luis A. Ferré Foundation, Inc.
National Portrait Gallery
750 9th Street NW
Suite 4100
Washington, DC
Mailing Address (Catalog of American Portraits)
Catalog of American Portraits
National Portrait Gallery
P.O. Box 37012
Victor Building, Suite 410
MRC 973
Washington, DC 20013-7012
202.633.8260
202.633.8254 fax
NPGResearch@si.edu
www.npg.si.edu/research/
ceros.html
Hours
Monday – Friday
10am to 5pm
Appointment Required
Metro Stop: Gallery Place

Mailing Address (Peale Family Papers)
Charles Willson Peale
Family Papers
Smithsonian Institution
P.O. Box 37012
Victor Building, Suite 410 MRC 973
Washington, DC 20013-7012
202.633.8304
202.633.8243 fax

pealepapers@si.edu
www.npg.si.edu/research/
cwpeale.html
Hours
Monday – Friday
10am to 5pm
Appointment Required
Metro Stop: Gallery Place
Catalog of American Portraits

The Catalog of American Portraits (CAP) is a national portrait archives maintaining data and images for nearly 200,000 portraits. The CAP maintains records of historically significant American portraits, i.e., portraits of notable American subjects or by notable American artists. New material is added regularly from various sources, including an ongoing survey of portraits held in public and private collections across the country and abroad. Generally, only one-of-a-kind likenesses are recorded, such as paintings, sculpture, drawings, miniatures, silhouettes, and daguerreotypes. Photographs, engravings, etchings, lithographs, and other graphic arts are generally not surveyed by the CAP; however, portraits in these media are included if they are in the collections or exhibitions of the National Portrait Gallery. Reference services are provided to the public and online access of unrestricted data and images is available via the Portrait Search menu on the National Portrait Gallery's web site.

The CAP manual files contain, whenever possible, a photograph of the portrait, standard catalog data (medium, support, dimensions, condition), a description, current ownership, provenance, biographical sketches of subjects and artists, bibliographic references, and exhibition and conservation history. Often, archival correspondence and primary research material is included as well. A costume study comprised of more than 1,200 photographs of dated American portraits, from the eighteenth to the mid-twentieth centuries, is also available for examination and comparison.


Peale Family Papers

The Charles Willson Peale Family Papers, a historical editing project established in 1974, is an integral part of the Smithsonian Institution's National Portrait Gallery. The project has collected copies of more than six thousand documents, spanning three generations of the Peale family. The archive traces the family's history from the arrival of Charles Peale, a transported felon, through the career of Charles Willson Peale—artist, Revolutionary soldier, naturalist and museum keeper, and Enlightenment polymath—down through the nineteenth–century careers and lives of his many children, including his sons Raphaelle, Rembrandt, Titian Ramsay, and Rubens.

In addition to its richness as a source of biographical information on the Peale family, the archive is a matchless source of information on American family, social, and cultural history from the 1730s to the 1880s.

Highlights: The Peale Family Papers holdings contain photocopies of letters and documents collected worldwide, including revolutionary and travel diaries of Charles Willson Peale, his Museum records, and manuscript Autobiography. Accession, financial, and other records of the Philadelphia Museum, the Baltimore Museum, and the New York Museum provide information about the early history of museums in the United States. Peale's diary covering his participation in the battles of Princeton and Trenton during the American Revolution and the occupation of Philadelphia by the British are particularly detailed. Rembrandt Peale's writings on the mastodon, the artist's palette, and his portraits of Washington provide important information about early science and artistic practice. Titian Ramsay Peale's journals on the Long (1819-20) and Wilkes (1837-42) Expeditions are informative, concerning the exploration of the American West. Benjamin Franklin Peale's writings on coins and medals and his report on the United States Mint are also included.