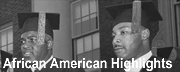 Welcome to the Highlights section of the Smithsonian Institution Research Information System. Explore a selection of resources from archival, library and specialized research collections across the Smithsonian.
Upcoming Highlights pages will spotlight various Smithsonian resources related to the nationally celebrated Heritage Months:
- Black History Month (February),
- Women's History Month (March),
- Asian Pacific American History Month (May),
- Hispanic Heritage Month Sept 15 - Oct 15),
- American Indian Heritage Month (November).
To explore these resources, use the buttons at left to select a highlight topic or the buttons at right to view selected highlights from each repository.
Check back often as more highlighted topics will become available throughout the year!

Browse the current African Americans Highlights page, the SIRIS Image Gallery, or go directly to SIRIS Home to search all the catalogs.
Smithsonian contributors to the SIRIS catalog maintain a wide variety of collections that include books, documents, photographs, and specialized bibliographies.
Click on the repositories below to view a sample of the holdings described in SIRIS for highlighted topics.